SUNDAY JULY 12th, 2020 – MARAZION TO PORTHLEVEN
Approximately 10 miles. Moderate to Strenuous.
Sunday 12th July will be an early start for us as we head to Cornwall for our next stretch of the South West Coast Path. This trip was originally planned for the end of April. After several months of 'lockdown', I really can't wait to get there.
Marazion – Home of St Michaels Mount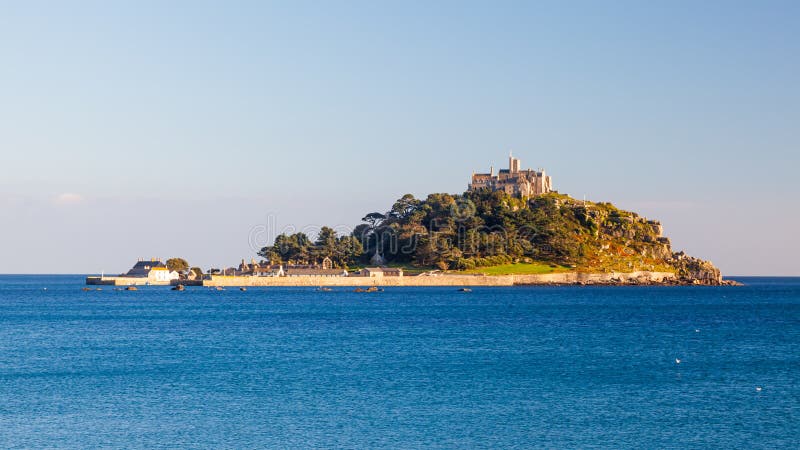 As we'll be travelling some distance that morning, the walk won't start until somewhere near mid-day. You are more than welcome to join me on the walk but you will need to get in touch beforehand so that we can update you on our ETA. If you have time free in the morning, why not head out to St Michael's Mount (tide permitting) and enjoy this beautiful island setting. St Michael's Mount is now open following the 'lockdown', but access is only available via an online ticketing purchase. If you want to visit, please check in on the St Michael's Mount website.
I'll pick up the South West Coast Path from the Cemetary about 1 mile East of Marazion. This is where we finished our trek in 2019. If you're planning to join me, this would be a suitable meet point perhaps.
Directions are almost superfluous: simply follow 'The Path' and keep the see on your right – it's hard to go too far wrong that way. The first stretch leads me to Praa Sands where I'll be stopping for a coffee break.
We then carry on along the coast path to Porthleven where we'll refuel ourselves before heading to our accommodation. The second leg is the more strenuous part of the journey but the climb is still quite limited at around 250 feet max. The last couple of miles are comparatively tame giving welcome respite to tired legs
You are more than welcome to join me for any part of this stretch, for the whole day, or the full nine yards Marazion to Falmouth. Please get in touch using my contact form and I will keep you updated on start times and progress.
Why not check out the South West Coast Path website for more information.